Are converse business casual? This is a question many people ask when it comes to dressing for the workplace. The answer ultimately depends on your company's dress code and personal preferences. Still, there are some key points to consider before deciding if Converse sneakers can be part of your office attire. In this style guide, we'll discuss what constitutes business casual attire and explore whether or not Converse shoes fit within that definition. We'll also provide tips on incorporating them into a professional look while staying true to your own style. By the end of this guide, you should have all kinds of information you need to make an informed decision about wearing Converse in the office.
What is Business Casual Dress?
Business casual dress is an accepted dress code in some office environments, although the definitions can vary between companies. Generally speaking, business casual dress consists of dress shoes, dress slacks, dress shirts, and dress blouses. In some cases, jeans or khakis may also be acceptable. Some companies may also allow dress shoes such as loafers, boots, and sandals.
The basic rule of thumb is that the clothing should be dressy but not too dressy. For example, dress shoes are expected, while running shoes or converse shoes are likely inappropriate. However, there may be exceptions depending on the dress code at your workplace.
Business Casual Sneaker Materials
There are two types of sneaker materials for your business casual dressing.
Slip-On Sneakers
If you're heading to an office and looking for a way to add some flair yet still wear something appropriate for the setting, slip-on sneakers are a perfect choice. Not only are these fashionable, but they also provide more effortless wear than dress or business casual shoes. They come in both traditional designs and more trendy looks, so no matter your style, you're sure to find the right pair of slip-on that reflect your personality. From tassel accents to bright colors and unique patterns, there are options for all kinds of footwear enthusiasts–so don't worry if you don't prefer a conservative look. Slip-on sneakers can easily be dressed up or down–meaning they're perfect for any occasion–and they'll deliver a hint of sophistication while keeping your feet comfortable throughout the day.
Low-Top Sneakers
Low-top sneakers are quickly becoming business casual's go-to footwear. With casual dress codes increasing across the business sector, low-top sneakers are the perfect option for demonstrating personal style in the workplace. They come in many sleek styles, from classic to modern, and provide a good balance between professional and fashionable. Investing in low-top sneakers can help you look sharp when it counts – at work!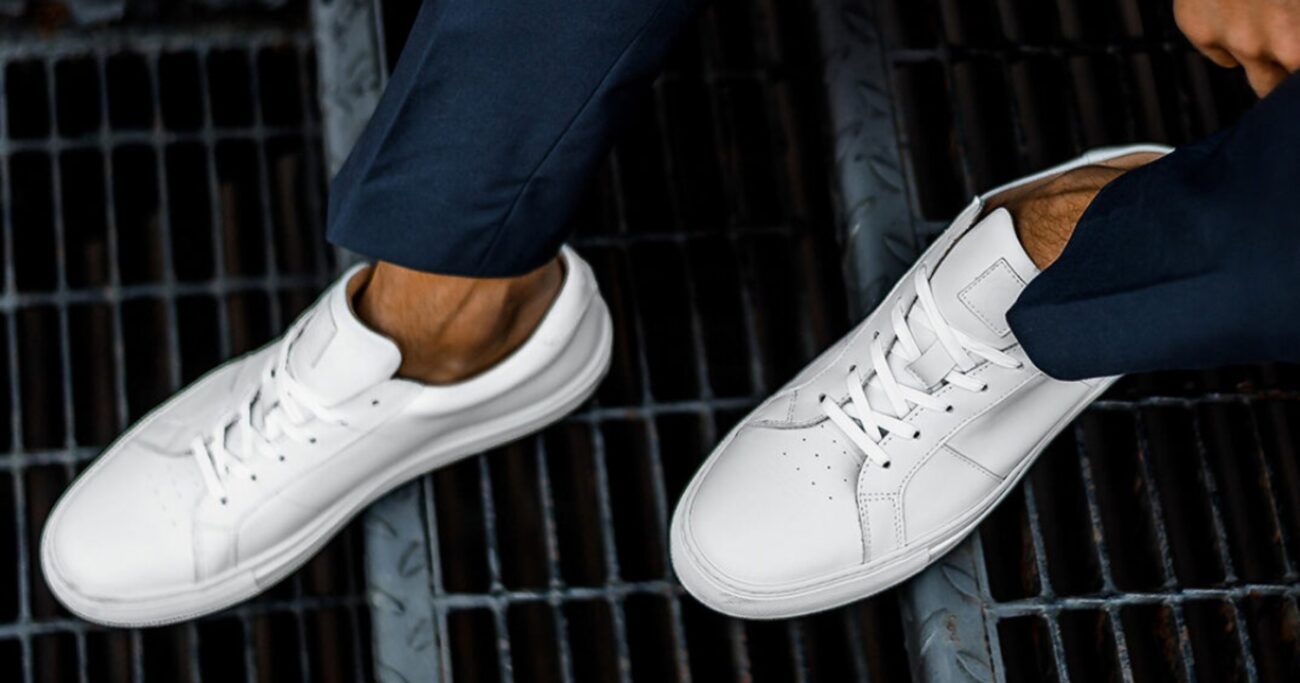 What should be considered when wearing sneakers for business casual attire?
Before try to wear sneakers for the office or working place. Consider these things that are listed below.
Consider Good Dressing
Looking to break free from business casual attire while still investing in a timeless style? Consider pairing business casual outfits with a good pair of neutral leather sneakers. Sleek and versatile coaches have become increasingly common in business settings as they indicate confidence and success. So, why not switch up your work look by combining casual business separates with clean white or black sneakers? This stripped-down yet bold approach to dressing can effortlessly show off your style without overdoing it—resulting in an ensemble that is both modern-chic and appropriate for business settings.
Consider Simplicity
When it comes to casual style, simplicity cannot be beaten. Put away the ostentatious shoes in favor of a classic look perfect for any casual occasion. And when it comes to casual kicks, what could be better than black converse shoes? Their sturdy canvas construction can go with almost any outfit, and their subtle, understated hues will never overpower your ensemble. Converse shoes provide the perfect addition to create an effortlessly cool style, whether you're going for an edgy vibe or something more preppy and polished. With converse shoes, keep it simple and let your personal flair do the rest!
Consider Wearing Formal Attire
With casual wear becoming more acceptable in formal settings, the trend of wearing casual shoes—particularly sneakers—with dressy clothing is evolving. Dressing formally does not have to mean sacrificing comfort anymore; it adds a modern touch that completes any ensemble. From open-toe casual shoes to classic street-style sneakers, there are countless options for footwear available that bring together the perfect balance of trendy fashion and class. If well put together, you can look both simple casual and dressed up at the same time. Wear formal attire with sneakers to add a unique twist to your formal styling without compromising your chic look!
Can I wear Converse to the office?
Converse sneakers have become popular in casual and professional settings, so why not wear them to the office? Not only are Converse sneakers chic, but they also offer a casual nature that makes them essential for casual Fridays or for creating a less formal atmosphere. Whether you choose the classic lace up sneakers or show off your style with a slip-on, these shoes can easily be dressed up, depending on what you match them with. So don't shy away from Converse in the workplace; their unique flair offers casualness that, even more, conventional attire cannot come close to.
Are Converse Business Casual
Above, we provide the complete information you need to check out converse sneakers. Now let's give you the answer to the question. Regarding office dress codes and business attire, there's no denying that the classic formal suit is often seen as the ideal. But don't think that this means Converse have no place in a professional office setting – they can be! As long as they are paired thoughtfully with other items such as tailored shirts, trousers, skirts, and jackets, or even with intelligent cardigans and blazers, Converse sneakers can be beautiful pieces of business casual attire. They add an element of fun and style to everyday office wear without distracting or taking away from your office confidence. So wait to discount Converse entirely – they could just be what you need to spice up your office wardrobe while keeping things professional.
Video Guide: 12 Ways to Style Converse Sneakers
Conclusion
In conclusion, business casual shoes such as Converse sneakers can be an acceptable choice for the office. Whether you're finding to add a modern touch or spice up your wardrobe with something more fun and stylish, Converse sneakers, offer the perfect blend of trendiness and class. With this in mind, it is essential to remember that when combining dressy clothing items with these shoes, simplicity should always remain key—so keep it simple but let your personal flair do the rest! So don't shy away from incorporating Converse into your business attire; they could just be what you need to take any look from dull to dazzling without compromising professionalism.
FAQs
Can I wear Converse as business casual?
Yes, Converse shoes are often an acceptable choice regarding business casual attire. However, even though they might meet the dress code requirements, they don't support the professional image typically associated with a successful career. If you wear Converse for a day at the office, consider pairing them with neutral or dark-colored clothing and avoid any trends or patterns. Investing in a comfortable pair of classic dress shoes and keeping them on hand for important meetings is strongly recommended.
Is it OK to wear sneakers for business casual?
While lace-up sneakers might not be the first choice for business casual, they can still be a fashionable and appropriate option. Sneakers add modern flair to any outfit, from a blazer and pantsuit to a button-down and cardigan. Moreover, lace-up sneakers can offer more comfort than other footwear options when you have multiple vital events or are expected to remain on your feet for an extended period. No matter which lace-up sneakers you choose, there is arguably no better way to increase your level of sophistication while also ensuring maximum comfort throughout your day.
Is Converse acceptable in the office?
Converse shoes are famous for casual and athleisure wear, but can you wear them to the office? The short answer is: it depends. You'll need to check your office's dress code to be sure.
Converse shoes are generally made of canvas and rubber, which makes them comfortable and casual. They come in different styles and colors, so you can find a pair of shoe that fits your style. And they're relatively affordable, which is always a bonus.
So, can you wear Converse shoes to the office? It depends on the dress code. If the dress code is business casual, you can get away with wearing Converse shoes. However, if the dress code is business formal, you'll probably want to steer clear of Converse shoes and opt for something more traditional, like dress shoes.
At the end of the day, it's depends on you to decide whether or not you think Converse shoes are appropriate for the office. If you're unsure about caution and dress according to the dress code. After all, it is better to be overdressed than underdressed in the workplace.
What kind of shoes is business casual?
"The type of shoes considered business casual can vary depending on the workplace. In general, business casual shoes are dressier than sneakers but not as formal as shoes worn with a suit. Loafers, mules, and flats are all common choices for business casual environment shoes. Oxfords can also work, but they are more formal and may only be as comfortable for some-day wear. Lifestyle sneakers with leather or canvas uppers can also be appropriate in some workplaces. If you're not sure what to wear, it is always best to err on the side of caution and go with a more formal option."