Puma has long been known for its quality sneakers and stylish designs. Whether you're a sneaker enthusiast or just someone looking for comfy shoes, Puma is the brand to turn to. Their wide variety of styles and colors ensures there's something for everyone and their commitment to innovation makes sure that each shoe is made with the best materials and technology. So, are Puma sneakers good? The answer is an emphatic yes! Let's take a closer look at why.
Are Puma Sneakers Good?
Puma sneakers are made with a focus on comfort, durability, and style. Puma technology is designed to keep feet comfortable over long hours of wear, even in demanding conditions like running or playing sports. The materials used for each shoe are carefully chosen for maximum breathability and cushioning so your feet stay dry and comfortable all day long.
The durability of Puma Sneakers
Puma sneakers are built to last. Their high-quality construction and attention to detail can withstand wear and tear. Whether running around town or playing pickup basketball, you can trust that your shoes will hold up. And if there's ever an issue with the quality of your shoes, Puma has an excellent return policy for any defective products.
Style of Puma Sneakers
No matter your style, there's a Puma sneaker for you. They have sneakers in all colors and designs, from classic to modern, so you can find something that fits your wardrobe. Whether you want to make a statement with bold colors and eye-catching patterns or keep it simple with neutrals and minimalist designs, Puma has something for everyone.
What makes Puma sneakers Good
There are a couple of factors that make puma sneakers good. Let's take a deep look at these factors.
Use Of Sustainable Materials
Regarding sustainable materials in the fashion world, Puma and Nike shoes are leading the way. Consumers looking to purchase more environmentally friendly shoes can now do so with these two brands. Puma has released a range of shoes using eco-friendlier materials such as recycled plastic, cotton, and hemp. Nike has also upped their game in sustainability by creating shoes with responsibly sourced materials like recycled polyester, rubber, and foam. By investing in more sustainable materials, Puma and Nike have put consumer preference for ecological products at the forefront of their manufacturing processes. This allows shoppers to reduce their environmental impact while still enjoying fashionable footwear.
Leather
Puma sneakers are often crafted with high-quality leather materials, providing superior comfort and durability. Puma pays close attention to the leather used for their designs to ensure a luxuriously soft feel for customers. Leather is also incredibly versatile and can be used in many different ways, from simple low-top sneakers to bolder high-top designs.
Cotton
Puma sneakers also use cotton material for an added layer of breathability and comfort. Cotton is a lightweight fabric that helps to keep your feet cool on hot days while providing plenty of cushioning and support. With the combination of leather and cotton, Puma sneakers offer the perfect balance of style and comfort.
Polyester
Another material Puma uses for their sneakers is polyester, which helps to add stretchability and strength to the shoes. Polyester is also a lightweight fabric, making it perfect for active lifestyles. Additionally, polyester is highly resistant to shrinking, fading, and wrinkles over time, so you know your Puma sneakers will last for many years.
Packaging
Puma is also very conscious of the packaging for their sneakers, using recyclable materials whenever possible. This helps the brand reduce the amount of plastic waste from shoe packaging and ultimately contributes to a more sustainable product.
Down Feathers
Finally, Puma sneakers also use down feathers in some designs to provide extra warmth and comfort. Down feathers are incredibly lightweight while providing superior insulation that keeps your feet warm during the colder months. With all these factors combined, it's clear why Puma sneakers are an excellent choice for those looking for stylish and comfortable footwear.
Reasonable Pricing
Puma sneakers also have the advantage of being reasonably priced compared to other brands. You can often find Puma shoes for much less than their competitors, which makes them a great choice for those on a budget. Whether you're finding for something casual or more formal, Puma has plenty of options without breaking the bank.
Environmentally Conscious
Going green isn't just a trend; it's a lifestyle. Investing in the most popular PUMA sneakers is a great way to become more environmentally conscious. Not only are their shoes stylish and comfortable, but they have also committed to Sustainable Textile Production and use more sustainable materials in their product design. Even better, PUMA regularly tests its products for hazardous substances throughout the product's life cycle, ensuring that no material used endangers any environment or future industry. With these extra steps, PUMA helps to contribute towards minimizing climate change by introducing eco-friendly practices and products into everyday life. So make the most sustainable choice – join the most popular PUMA sneakers lineup today!
Variety Of Products
There is multiple products available for everybody.
Sneakers for Kids
PUMA makes a wide selection of shoes for children too. From sporty sneaker sandals to dressy loafers, there is something for every style and occasion. PUMA's kids' shoes feature lightweight materials with plenty of cushioning and support, so your little one can adventure comfortably. They also use eco-friendly materials like recycled rubber, which helps to reduce the brand's carbon footprint. With various colors and designs available, your little one will find something they love!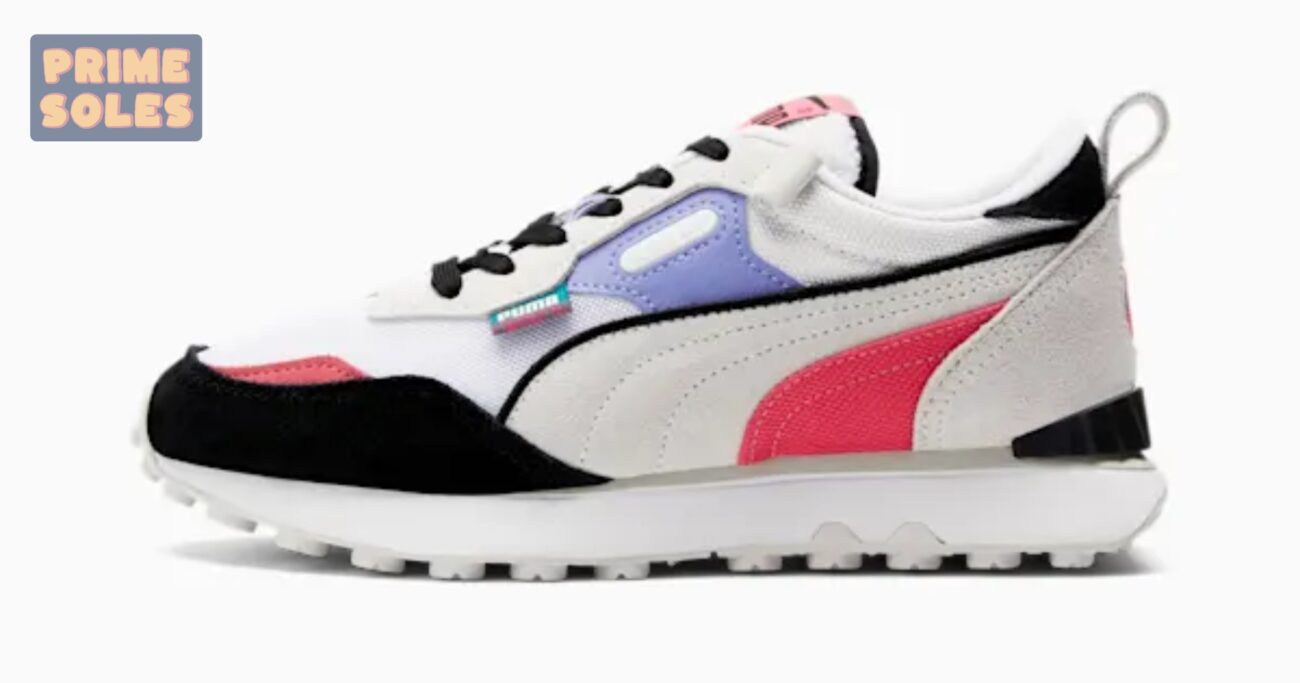 Sneakers for Men's
Puma offers a wide range of stylish and comfortable shoes for men. From classic leather sneakers to modern technical running shoes, Puma caters to all tastes and activities. Each of their shoes uses lightweight materials with superior cushioning and support so that you can stay comfortable no matter your adventure. From the office to the gym, Puma has got your feet covered!
Sneakers for Women's
Puma is also an excellent choice for fashionable female sneakerheads. Their designs are unique and stylish yet comfortable enough for everyday wear. Whether you're finding for a classic pair of sneakers or something more modern, PUMA has covered you with plenty of options. Plus, they use eco-friendly materials like recycled rubber soles which help to reduce the brand's carbon footprint. So if you want fashionable and sustainable shoes, PUMA is the way to go!
Customer Satisfaction
Concerning customer satisfaction, PUMA consistently ranks at the top of its class. Not only do their shoes look great, but they also offer superior comfort and durability. Between their lightweight materials, superior cushioning system, and overall quality construction, PUMA sneakers last far longer than competing brands. Plus, with various styles and prices, everybody can find something to fit their needs – no matter the occasion. So if you're looking for stylish and reliable shoes, PUMA is definitely worth the investment!
Video Guide
Conclusion
In conclusion, Puma sneakers offer excellent value in terms of style, comfort, environmental impact, and customer satisfaction. Whether you're looking a kid or an adult shoe, there's something for everyone at PUMA, and with their eco-friendly materials and production processes, you can be sure that your shoes are a sustainable choice. So take the plunge – join the most popular PUMA sneakers lineup today! You won't regret it. With Puma sneakers, style meets sustainability in a way nobody else can match!
FAQs
Are Puma's good for your feet?
Yes, Puma's are suitable for your feet! As one of the leading sportswear brands, Puma is known for its fashionable and quality footwear, such as basketball shoes. They have a wide range of sizes and styles available to fit any individual's needs. In addition to regular sneakers, Puma also carries an exclusive range of luxury brand options for those looking for style and fashion. Puma has the perfect shoe if you're looking for kicks for workouts or running. So why not treat yourself to a pair of Pumas? Not only will they look great on your feet, but you'll also be doing something good and protective for them!
Are Puma's good for your wide feet?
Yes, Puma's are great for those with wide feet! Their sports equipment is designed with air-cushioned technology, giving your feet the maximum comfort and support possible. Moreover, many of the world's most successful professional athletes put their faith in Puma as their go-to brand for running shoes and other performance gear. With the quality and durability of the company's products, you can be sure that your wide feet will receive all the protection they need when training or playing hard!
Are PUMAs suitable for walking?
Yes, PUMA sneakers make all-day walking bearable. With their unique construction and superior comfort technology, they are the best choice when it comes to sneakers for long walks. Made of breathable synthetic and mesh materials, PUMA provides good cushioning with solid traction support, making them one of the top contenders for a good walking option. Their air technology guarantees that your feet don't suffer excessive fatigue during a walk. All these features create one of the best sneaker brands available today. If you're looking for comfort, quality, and style, PUMA will never let you down!
Why is PUMA so special?
PUMA is a brand that has a lot of unique features. It is a creator of immediate product designs and caters specifically to the fastest athletes, making them the best and most stylish in their respective fields. PUMA creates a good brand image with its immediate product designs and presents a fashion industry attitude with a range of clothing lines that puts forth a unique statement. Moreover, creative collaboration projects often spark a sense of nostalgia for fans who may have grown up in the eras that are being honored. For this reason, consumers often remain loyal to the PUMA brand as a go-to when looking for something special and unique.
Which best puma sneakers are on trend?
Puma future rider play, Puma cell Venom, Puma Platform Trace, Puma Vikky platform sneaker, and Puma Cali bold are some of the best puma sneakers on-trend. Future rider play is a classic running silhouette with an eye-catching color contrast. Puma rs x is also an excellent choice for those looking for a mix of style and comfort. It has been designed with an upper made from durable materials, and the midsole offers superior cushioning. All in all, you can be sure that these Puma sneakers will keep your feet comfortable and stylish! Puma Platform Trace is a modern classic platform sneaker with an elevated sole to give you more height and comfort. The Puma Vikky platform sneaker combines style, flexibility, and cushioning, making it perfect for everyday wear. Lastly, the PUMA Cali Bold sneakers are chunky yet lightweight, perfect for running or casual errands. Puma slipstream lo is also a great option; it has a lightweight upper and flexible sole, ideal for daily activities. With the variety of styles, colors, and designs available from Puma, you'll always be on-trend!